Gunung Lanno is south of Ipoh near kampung Kepayang, and the Sungai Raia flows along the west side of the hill. The oldest cave temple is Kwong Fook Ngam, established in 1884. (Sometimes spelt as Kong).
| | | |
| --- | --- | --- |
| Kwong Fook Ngam | Same cave, but the caption says Anderson Road which is north of Ipoh where Gunung Cheroh is located. | Kong Fook Ngam ~1913 |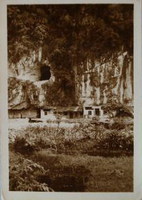 I don't know the location and can't match it on any current photos. I am guessing it may be Kwan Yin Tong on Gunung Rapat, but really not sure.
Gua Tempurung is not a cave temple, but a show cave, which opened in 1997. Various postcards have been published but I have never bothered to collect any except for these few, which unfortunately are of poor quality.
| | | |
| --- | --- | --- |
| Cockroaches & other inhabitants on the cave floor feeding on a dead bat [001] | The cave centipede, Scutigera decipiens - long legs & feelers are advantages in the darkness of the cave. [002] | Sungai Tempurong provides visitors with an exciting & unique river adventure. [003] |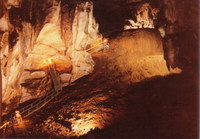 The additions of walkways & artificial lightings enables visitors to better appreciate the natural beauty of the limestone formations. [004]
Lenggong Valley became a World Heritage site in 2012. As there are no postcards of the area and the gallery doesn't sell any, I had some printed - contact me to buy them.
| | |
| --- | --- |
| Gua Teluk Kelawar (Perak Woman) & replica Perak Man burial | Lenggong archaeological gallery |


© Liz Price 2009-2014
Last updated Jan 2014