CAVE TEMPLES IN PENINSULAR MALAYSIA
Malaysia is a multi racial country, the three main races being Malay, Chinese and Indian. Although Islam is the official religion, other races are allowed to practise their religions. This is reflected in the number of cave temples in Malaysia.

For centuries, caves - especially in southeast Asia - have been used by Hindus and Buddhists as places of worship, for meditation, for retreat. Professor Joseph Hobbs wrote (2005) "arguably, the most diverse and vibrant ritual uses of caves anywhere in the world today is the 200 kilometer stretch of Peninsular Malaysia between Kuala Lumpur and Ipoh". I would actually narrow this down to "the 40 km stretch running north and south of Ipoh". The Ipoh area in Perak has the highest concentration of cave temples in Malaysia.

However the most famous cave temple in Malaysia is the Batu Caves complex. There are a series of Hindu temples on the outskirts of Kuala Lumpur.

There are more than 50 cave temples in the peninsula. Some of them are long established and have had a lot of money put in to develop them. There are also numerous minor caves around the country which house small shrines and temples. Some of them last no longer than a year or so. For further details see the book Caves and Karst of Peninsular Malaysia.

SELANGOR

BATU CAVES
| | | |
| --- | --- | --- |
| Batu Caves steps | Art Gallery Cave | Cathedral Cave |
Batu Caves is located about 12 km north of Kuala Lumpur. It is a limestone hill penetrated by caves. The nearby village is also called Batu Caves and the Sungai (river) Batu flows outside the hill.

There are a series of Hindu temple caves, the most famous being the Temple or Cathedral Cave where the annual Thaipusam festival is held. The first temple, the Sri Subramaniam Swamy was established in 1891, and is dedicated to Lord Muragan, also known as Subramaniam. A flight of 272 steps lead up to the cave. The cave is one vast chamber and goes through to a huge skylight at the far side. The first Thaipusam was held in 1892, and today attracts some 800,000 people. It is a festival of penance for Hindu devotess, who carry kavadis and put spears though their cheeks and tongue, and hooks in their back. It is a combination of devout fervour, supreme sacrifice and thanks-giving. It is held annually on the night of the full moon during the tenth Hindu month of Thai, which falls between January 14th and February 14th.
Batu Caves was Malaysia's largest temple dedicated to Lord Murugan. Now a new temple in Penang is set to be the biggest, when completed June 2012, although it is not a cave temple.

Various other caves in the hill have been established as temples. ART GALLERY CAVE and SMALL DARK CAVE are located behind the pond at the foot of the stairs. There used to be a RM1 entrance fee to cross the pond on a walkway and enter the caves which are packed full of Hindu statues and paintings. But now this area has been packaged as Cave Villa , see also news and the Cave Villa website. Entry is now RM15 for non-Malaysians and RM30 for the show package.

Near the tall statue of Hanuman the monkey god, is Lower Ganesh Cave, now called Ramayana Cave (and is currently closed).

East of the main temple complex is the small Ayapam Temple and Gua Sitanggan.
There are educational and adventure caving trips in Dark Cave.

Batu Caves is famous for the long tailed macaques which inhabit the area, and over the years have become more opportunistic and more aggressive as they snatch food and other items from visitors. So I was surprised to find on a visit in mid June 2010 that all these monkeys had gone, leaving in their place flocks of pigeons. I suspect the monkeys have been "removed" but I don't have any information. They were presumably there in May as they were mentioned in The Star. However by Aug there were quite a few youngsters around so it seems the population is on the increase again.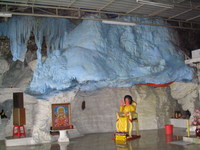 Sai Baba, Perak
PERAK

There are many cave temples in around the city of Ipoh in the Kinta Valley. The two temples mentioned in all the guide books are Sam Poh Tong and the Perak Cave Temple. There are around 30 additional temples, so only the more important ones will be mentioned here.

However I have noticed that some of the older cave temples seem to be loosing their appeal, and there are new cave temples opening up, which are Thai influenced and have Thai monks and statues. The latest trend seems to be Thai or Tibetan influences, and the setting up of monasteries, forest retreats etc. And other temples have more commercial interests, and seem to be adding attractions just to get more visitors, and presumably more donations, e.g. Kwan Yin Tong, see below.

Going from south to north :

GUNUNG GAJAH

At the south end of Gunung Gajah is TOKONG SHAU SIN NGAM, Cave of Longevity, reputed to be around 150 years old. There are 2 urns containing human bones.

GUNUNG MESAH

Gua Mun Fatt Ngam, also known as Temple of the Ten Thousand Buddhas, is an abandoned temple in a large cave chamber. The cave was apparently known before 1886, but the temple was abandoned in 1969. Around 380 steps lead up the hill to the cave, inside are remains of pillars, and several water tanks, altars and even a kitchen. The cave was well visited during the heyday of tin mining. My blog photos.

GUNUNG LANNO

There is one Indian temple, the SRI SIVA SUBRAMANIUM. The neighbouring Chinese temple, KONG FOOK NGAM was established in 1884. In recent years the caretaker has been digging out the cave sediments to extend the cave, following instructions given to him by a goddess in a dream. RM2 entry to the extended section. Nearby a Thai monk used to live in a house accessed through a cave tunnel, and devotees were allowed to visit on a Sunday. By 2014 a new ornate building had been constructed in front. Further along the hill a Thai nun has been digging out a cave to establish a small temple, lit by candles.
| | | |
| --- | --- | --- |
| Kong Fook Ngam | Kong Fook Ngam | Kwan Ying Tong |
GUNUNG RAPAT

This hill has the highest number of cave temples.

SAM POH TONG is the most famous. There is a small pond full of turtles which people feed and an ornamental rock garden. At the back is a crematorium and columbarium. This temple is particularly busy during the time of the Chinese All Souls festival. The neighbouring NAM THEAN TONG was established in 1867 and has been featured on postcards. A series of steps leads up to the upper chambers. It made the news in 2012 when a Buddha face was seen on the cliff face. It is the first cave temple I have seen with a QR code for smartphones! See Nam Thean Tong website. LING SENG TONG is next door (nearest the road) and is a small chamber filled with black smoke from the offerings. KEK LOOK TONG is one of the newest and most opulent of the major temples on Rapat. It consists of one large chamber which runs through the hill. There are large gold statues of Buddha and the walls are covered with marble tiles. See Kek Look Tong website. KWAN YIN TONG is a smaller temple alongside the main road heading south. There are rows of about 75 Kwan Yin (Goddess of Mercy) statues visible from the road. And more recently many more statues have been added and landscaping and gardening done, in an effort to attract more visitors. There is also a new staircase to the top of the hill. Next to this is the DA SENG NGAN temple which was "refound" in 2006, having been buried by a mudslide in 1974. There are numerous smaller temples on this hill - Buddhist, Chinese, Thai and Tibetan.

In 2014 an Ipoh businessman gave some proposals to develop Gunung Rapat for housing, theme park and outdoor activities. See 'Plans for Gunung Rapat' on Archives 2014.

---------
North of Ipoh

PERAK CAVE TEMPLE is an important temple, and one of the most famous, established in 1926. The cave is famous for the colourful murals and calligraphy. The two large chambers are full of statues and paintings, and stairs lead up to the top of the hill, where small pavilions have been constructed. There is also a crematorium and columbarium. There was a rockfall on 11 Jan 2009 which killed the security guard and injured some visitors. The cave was closed for a while, but had reopened by July. I don't know if any safety checks had been carried out. Perak Cave Temple is on Gunung Tasek. See more on the history of Perak Tong. In 2016 Perak Tong was featured on a stamp issued by Pos Malaysia.

GUNUNG LANG.
Gunung Lang is next to Gunung Tasek. LOONG TOW NGAM on Gunung Lang is the oldest temple in Perak, established in 1854. The remains of an old wooden house can be seen clinging to the cliff face. Further along Gunung Lang is a new GUA BAHAGIA, FOOK POU TONG Thai cave temple. And around the hill is the Dhamma Piti Forest Monastery.

GUNUNG CHEROH
Gunung Cheroh is possibly best known for the rockfall in 1973 which killed 42 squatters living at the foot of the hill. There are 2 Chinese temples, the Nam Tou Ngam, and the 8 Immortals Cave, (now called Goddess of Mercy and Eight Immortals). The 71 year old caretaker of Nam Tou Ngam was murdered in the cave in Aug 2008, so the cave is currently closed. There are some Indian shrines, and one Indian temple (non cave) where the annual Thaipusam festival is held.

GUNUNG DATUK
Near the "Lost World - Sunway City" complex is the SAI BABA temple, which is only open on Sundays. Dedicated to Sai Baba, it also houses statues from the Buddhist, Taoist and Catholic faiths. The JINGANG JING SHE temple has the tallest standing Amitabha Buddha, 24m high, and it stands on top of the temple and can be seen from quite a distance.

GUNUNG LAYANG LAYANG
TUNG WAH TEMPLE on Gunung Layang Layang is reached by a flight of steps. The main chamber is filled with an altar and many statues. A small narrow staircase leads to the top of the hill was used by monks for meditation but seems to be abandoned now. 'Toong Wah' Cave Temple celebrated its 139th Anniversary on 17 December 2011. Next to this cave is the NAM LOONG NGAM (recently renamed to Nan Yang Koo Miau) with the wooden structures built on the cliff face. There are plans to build a Tibetan style monastery right in front of this temple, which would destroy or at least obliterate the old wooden structures. By Aug 2011 the wooden structures had gone and building work had started and the cave interior fitted with new floors, lighting and stairs.


| | | |
| --- | --- | --- |
| Kek Look Tong | Kek Look Tong garden | incense coil |
GUNUNG BERCHAM and GUNUNG TAMBUN
These hills are commonly misnamed when written about in the media, generally both being called Gunung Bercham. And Gunung Tambun is not to be confused with the Tambun rock paintings which are on a different hill, Gunung Panjang. There are a couple of cave temples at Gng Bercham, the biggest being Trum Jittavipassana (Thamchit Wipatsana, Trumcitta Vipassana). At Gng Tambun there are 2 adjacent temples, Huat Tian Keong and Sukhavana Meditation Centre, this is their Facebook page.


| | | |
| --- | --- | --- |
| Ling Sen Tong | Ling Seng Tong | Perak Tong |
| | | |
| --- | --- | --- |
| Sam Poh Tong | Sam Poh Tong | Sam Poh Tong offerings |
PAHANG

GUA CHARAS

Located off the road to Sungai Lembing, west of Kuantan. Charas cave is about 80m above ground level, reached by steep steps. Inside is a huge chamber, towards the rear is a statue of a reclining Buddha. The cave is used by Buddhists and Hindus. It is also an archaeological site. There is a small entrance fee, and torches can be rented from the monks.


| | | |
| --- | --- | --- |
| Nam Thean Tong, Perak | | Nam Thean Tong, Perak |